Tirzah Poppinga
T-Pizzle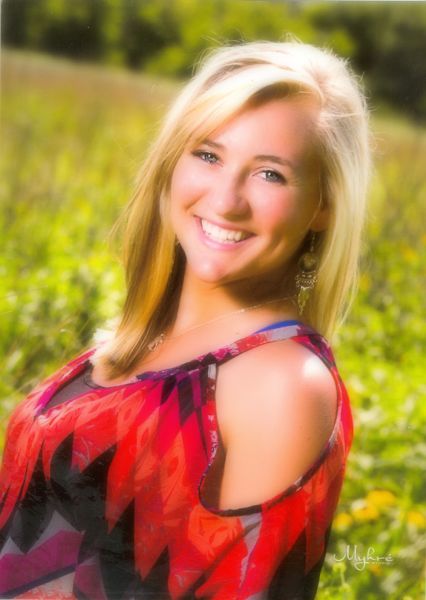 Jeff and Lori welcomed their daughter Tirzah into the world on August 16, 1995. Tirzah is the third child; her siblings include JP, Kezia, Jericho, Lacey, Justus, Jadon, Selah, and Gracia.
Tirzah has been in many school activities including basketball for one year, volleyball two years, cross country one year, football cheerleading three years, student council four years, National Honor Society two years, chorus for four years, jazz choir three years, and swing choir for two years. Tirzah is also in Fred her youth group, and was named Miss Rock Rapids as well as Miss Lyon County! Congrats, Tirzah! She was also the basketball manager three years and musical for two years. Her most memorable high school moment was attending the state fair.
Her senior schedule consists of government, grammar, Spanish 4, business and consumer math, and public speaking; however her favorite subject is art. Tirzah's advice to the underclassmen is "Do the things you want in high school, not just what all your friends are in. Try to experience everything."
She also enjoys watch the TV show "How I Met Your Mother," the movie "Steel Magnolias," and the book "Kisses from Katie." Her favorite color is royal blue and she likes eating dried pineapple. If Tirzah could spent the day with anyone, she would spend it with her brother, JP because she doesn't see him very often anymore since he is in the Army.
Tirzah's future plans include graduating early to go to Haiti, go to college and get a major in art, nursing, or teaching. In ten years she sees herself married with kids.
Good luck, Tirzah!