Morgan Herda
Best Personality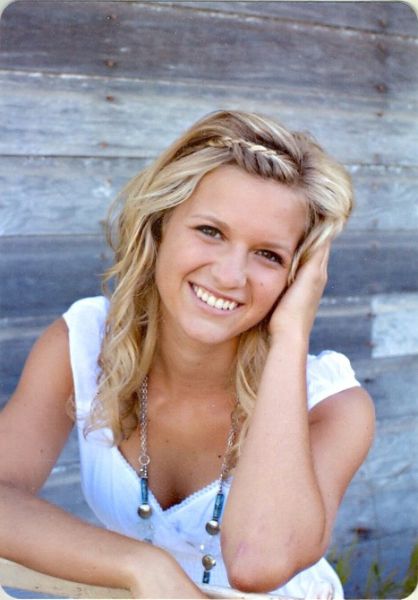 Morgan Sandra Herda was born to her parents, Linda and Doug, on September 29, 1994. Her family also includes her two older brothers Trent and Nate, her sister Brooke, her brother-in-law Michael, her sister-in-law Ashley, and her dog Bailey.
Morgan's senior year has been very busy. Her schedule consists of human anatomy, grammar, government, sociology, work study in the elementary special education room, Algebra II, single survival, and college sociology.
Throughout high school Morgan has been widely involved in activities. These include volleyball for four years, basketball for two years, track and field for four years, softball for four years, International Club two years, Teens Against Tobacco Use two years, dance team one year, and the musical play for one year. She also has been a two-year member of the National Honor Society. She is involved in her Holy Name Catholic youth group, and attended a mission trip to St. Louis and volunteered at Faith Family Formation at her church.
Her favorite movies are "€œTitanic"€ and "€œP.S. I Love You."€ She listens to the band Mumford and Sons, her favorite book is "€œThe Last Song,"€ and her favorite TV shows are "€œLaw and Order: Special Victims Unit"€ and "€œCriminal Minds."€ She also likes the subject sociology, the color lime green, and the food tacos.
Morgan'€™s words of wisdom for the underclassmen are "€œRespect your teachers and listen to what advice they give you. They'€™re not out to get you, just preparing you for the real world; not just academically, but life in general."€ She would also like to include that, "€œHigh school is the time of your life. You might have bad moments, but most are good. Find yourself and enjoy it with everyone. I made great memories with awesome friends that I will never forget."
If Morgan could spend the day with anyone she would spend it with her nephew Gabriel. He was a still born baby, and she believes he is the angel that saved her during the accident in August.
Morgan's most memorable high school moment was winning a team championship at state track her freshman year. Her future plans include attending Iowa State or University of Kansas for Elementary special education. In ten years she sees herself with a teaching job, a happy family, and living life to the fullest.
Good luck in the future, Morgan! You will be missed!