Austin Ahders
Auction Ahders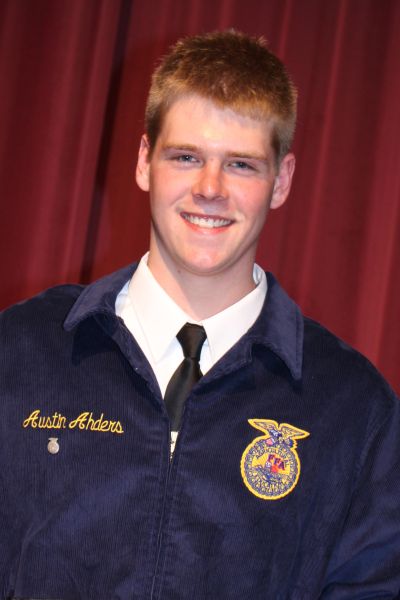 On February 25, 1994, Austin Ahders was welcomed into this world by his parents, Clark and Marcene Ahders. Austin's family also consists of his older brother, Alex Ahders.
Austin has stayed very busy his senior year. He is currently taking English, government, agriculture math, agriculture business, agriculture construction, metal fab, and work study. He enjoys all of his shop classes and the projects he works on. Austin stays very busy involved in the CL FFA and working at the FFA farm property. Along with school, he stays involved in the Immanuel Lutheran Church group.
Austin has many favorites such as the color green and the movie "Ted." He enjoys listening to country music in his free time. His favorite food is pizza. Austin's most memorable high school moment would be chasing Mr. Stegemann down Highway 75 with Kyle and Cameron. His words of wisdom to underclassmen are to take as many shop classes as possible. If he could spend one day with someone living or dead, it would be Grandpa Ahders. He was never able to meet him and heard he was a very nice man.
Austin plans to continue to farming after high school. In ten years he sees himself farming and maybe married.
Best wishes in your farming future, Austin!