Victoria Figge
Tori the Runner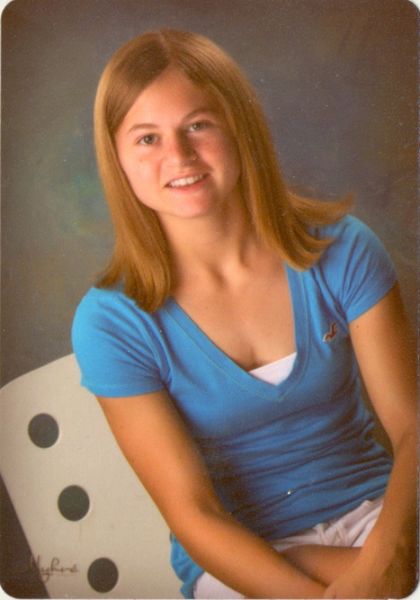 Victoria Figge was welcomed into the world on June 3, 1995. She was born to Kim Waagmeester and John Figge. Her family also includes her step dad Randy Waagmeester, two sisters Whitney and Veronica, and her brother Tyler.
In the academic field, Tori has a rigorous schedule. She is taking grammar, Journalism I & II, anatomy and physiology, consumer and business math, Spanish IV, government, sociology, single survival, chorus, and college psychology.
Tori has been very active in the extracurriculars offered at Central Lyon. For one year she has been a part of the journalism staff and the newspaper editor. For two years Tori has been in the musical stage crew, TATU, and NHS. And for the duration of her high school career, Tori has been in chorus, track and field, where she was awarded All-Conference twice, cross country, where she was awarded All-Conference three times, international club, class vice president, and the wrestling manager.
Also, Tori has been active in activities that don't carry the Central Lyon name. She is a member of the United Methodist church of Rock Rapids. She is also a part of the Third Avenue Youth group where she is the current co-president. Tori can also been seen at Sunshine Foods carrying out groceries where she works part-time.
In Tori's free time, she enjoys watching her favorite TV show "Criminal Minds." When Tori is in the mood to watch a movie, she prefers watching "Pitch Perfect" and "Safe Haven." To go along with Tori's preferences, her favorite color is purple.
Looking back on her high school years, her most memorable moment was winning state track her freshman year and the Costa Rica Spanish trip her junior year. Looking ahead, in Tori's future she will attend Morningside College in Sioux City, Iowa, where she will be running track.
If she could spend one day with someone it would be her Aunt Julie, because she passed away when Tori was younger and she was the coolest aunt. Tori's words of wisdom to the underclassmen are as follows: Enjoy every moment of high school and don't be afraid to get involved in all the extracurricular activities CL provides.
Good luck in your future, Tori!