Jessica Harberts
Hardest Worker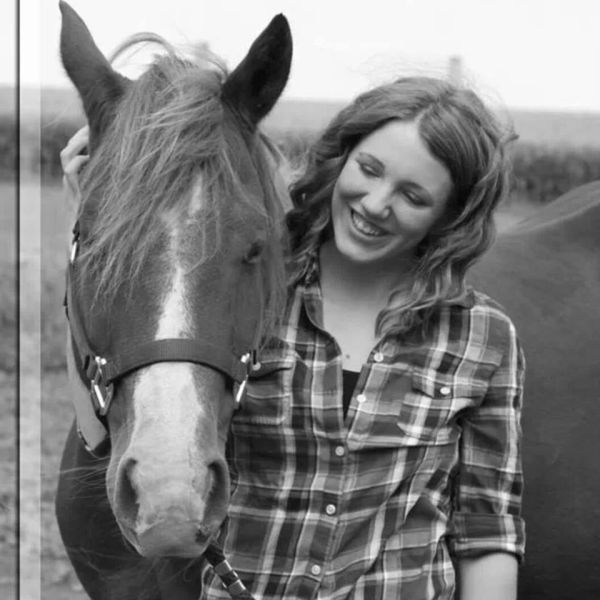 Among the many members of the FFA, you'll find very few who have been as involved as Jessica Harberts. A four year member, Jessica is currently serving as the officer at large. Along with her involvement with FFA, she has participated in the Clever Clovers 4-H club for six years and has been on County Council for the last four, serving as its Vice President this year. She is a member of FRED at the Faith Baptist Church.

This year in school she has filled her schedule with calculus, government, single survival, Composition I, economics, grammar, psychology, and her favorite, ag business. This and her many activities have attributed to her selection for the National Honor Society the last two years.

Ever since July 9, 1996, (the day of her birth) her parents, Ordel and Melissa Harberts, and her sisters, Nicole, Mindy, and Becca, have shown nothing but support for Jessica. Along with these family members, Jessica also has two pets, dogs name Annie and Robbie.

When you can't find Jessica doing any of her many activities, you might find her enjoying one of her many favorite things. She enjoys watching the movie "Secretariat" and listening to country music, specifically Luke Bryan. Her favorite book is "Last Song" and her favorite TV show is "One Tree Hill." Her favorite food is roast beef with mashed potatoes and gravy.

Jessica's most memorable moment of high school is going to the 4-H Leadership Conference in Ames the past two summers. Rooming in the dorms at ISU helped her get closer with her friends and resulted in a fun experience. To the underclassmen, she says that being involved is one of the best things you can do to find out who you are and what you like.

If she could spend a day with anyone, it would be her great grandma Ollie. For as long as she could remember, her grandma was in the nursing home. Jessica would like to know her before that and in the days when she cooked, baked, sewed, and crocheted, and she would like to learn those things from her.

Finally, we look to her future. Next year Jessica will be attending Iowa State University. She will be studying animal science. In ten years she sees herself working in an agriculture job, happy to get up and go to work each day. She hopes that she will be married and ready to start a family.