Middle School Band and their #1 Fan!
Larry Goebel visits band rehearsal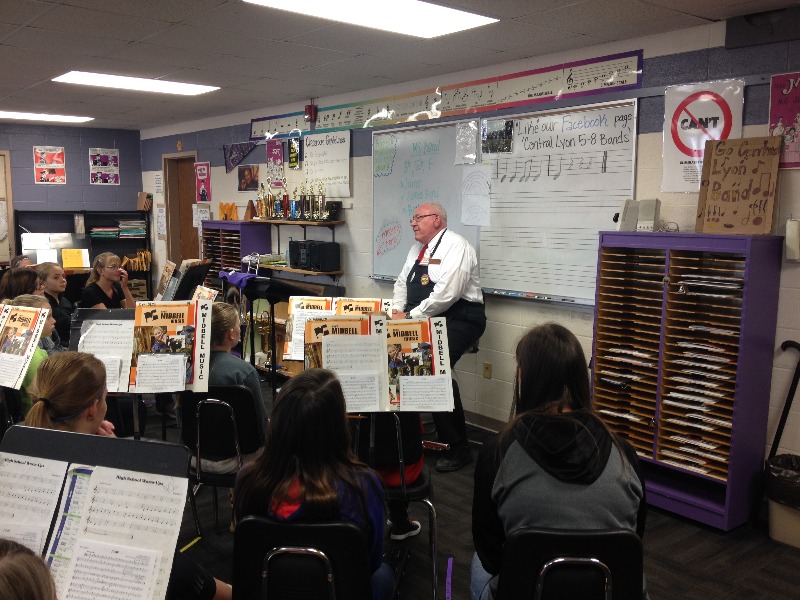 Larry Goebel, owner of Sunshine Foods, tells about the positive impact participating in band has had on his life
On Wednesday, during their rehearsal, the Middle School Band was visited by Larry Goebel, owner of Sunshine Foods.
Larry was invited to share his experiences with band and the impact it has made on his life.
Larry started playing tuba in the 5th grade at Luverne. Throughout junior high and high school, he enjoyed participating in many aspects of the band program. A few years after graduating high school, he found himself attending South Dakota State University. Upon enrolling there, the director of bands at SDSU received a phone call from Larry's high school band director informing him they had a phenomenal tuba player on campus and they should recruit him for their band. Larry auditioned for the band at SDSU, and on the same day, started rehearsals with them.
He enjoyed playing in many instrumental groups while at SDSU, but some of his fondest memories were marching with The Pride of the Dakotas.
Even after all these years, Larry tells the students, he still has his tuba mouthpiece, and could still pick up a tuba and play.
At the beginning of October, the Middle School Band was able to meet The Pride while marching at Festival of Bands in Sioux Falls, and they were gracious enough to take time out of their day for a photo with our band. We framed those photos, signed the picture, and presented it to Larry as a thank you for all of the support he has shown our band! The picture frame was donated by Chase Companies, as well as designed by them - thank you!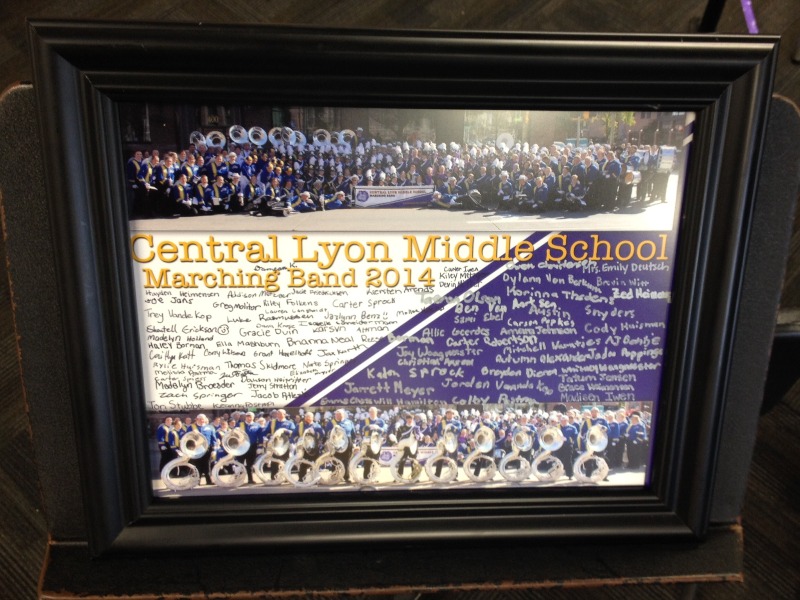 Launch the second image gallery player
The MS Band presented Larry with a framed picture of our band with The Pride of the Dakotas SDSU Marching Band - Larry Goebel's alma mater
Larry Goebel and Sunshine Foods have donated cases of apples for each away marching competition we attend. They have donated ice cream treats and gatorades during our summer band camp. Larry has even personally donated money toward the purchase of our new uniforms. At the conclusion of each marching season, Larry has also donated money to the band, telling them, "Go out and have a party on me!"
It's impossible to thank Mr. Goebel enough for all of the support he has given our band. All CL MS Band students and their director are forever grateful for the kindness, generosity, and encouragement he has shared with us. Support, like Mr. Goebel's, shows our students that hardwork does not go unnoticed and the effort you put in now will have a postitive impact on your life for a long time!