Rebecca Halse
Best Laugh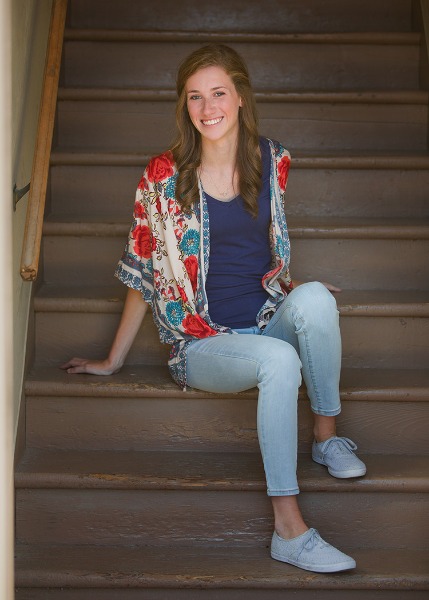 On July 6, 1998, Patty, Dave, Matt, Sam, and Sarah welcomed a wonderful new baby girl into their lives. Rebecca Ann Halse was born. Along with a marvelous family by her side, Becky has a loving golden retriever by the name of Sammy.
Throughout Becky's high school career, she has participated in numerous activities. On the musical side, these activities are band, choir, jazz band, school musicals and plays, large group speech, and state solo/ensemble contest. Not only does she have a great sense of talent in the arts, she has also been involved in TATU, International Club, National Honor Society, where she is the vice president this year, and student government, where she serves as the class secretary. She has been a basketball manager and a volleyball manager, too. She also puts her intelligence to the test whenever she joins the Quiz Bowl team.
With everything that she is involved in at school, you can't forget the countless number of classes she is taking to finish off her high school career. Some of the subjects she has on her plate this year are band, government, economics, AP Spanish, AP calculus, college composition, anatomy and physiology, Novel 1, and single survival, where she is preparing for her life after high school.
On top of Becky's enormous school schedule, she is involved in many community and religious activities. She is the president of Third Avenue Youth Group at the United Methodist Church. She has spread her love and caring for others as she volunteers on missions trips, and at Vacation Bible School. This past year she completed a 30 hour famine with her church.
Along with Becky's crazy brain power, she has a stellar list of favorites. Her favorite movies are "Now You See Me" and all the Saw movies. Her favorite color is lavender, and pasta is her favorite food. When she needs some quiet time, she likes to pull out the book "An Abundance of Katherines." She enjoys the subject science. To top off the list of favorites with the best one yet, she loves the T.V. show "The Vampire Diaries."
For her future plans she has not decided on a college yet but is choosing between Northwestern or Augustana with a major not figured out yet. In ten years, she can see herself graduated from college, married, with some little kids.
~written by Jenessa H