Anti-Bullying Information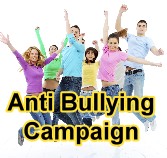 Central Lyon hosted Keith Deltano at an anti-bullying assembly on Thursday, January 28, for our students in grades 6-12.
Keith uses serious comedy to engage students and teachers during his school assemblies. His experience as an award winning teacher and parent coach have turned him into one of the nation's most requested anti bullying speakers. Keith addresses cyberbullying, physical bullying, racism, exclusion, verbal bullying, gossip, and the mean girl phenomenon.
Click here to read more about Keith's message and click here for parental information about social media.
---
Below is an email sent to Superintendent Ackerman from Keith after the assembly:
I wanted to thank you again for letting me come to your school. Your students were so well behaved. Please complement your teachers and staff. Attached you will find the info sheet that well help parents with the social media issues we discussed. Please feel free to email this to your parents or use it in any way you feel will help your parents and students. I appreciate your offer of putting a link to my site, www.DontBullyOnline.com on the "Parent Info" page. I really feel it would fit there and would go along with the Yik Yak info. It has videos that will help students and parents can get a lot of targeted and helpful info from the blog. Please let me know if you have any questions.
Thanks!
Keith Deltano
888-772-9683
Twitter: @keithdeltano
Facebook: Like Keith Deltano on Facebook