Hannah Sieperda
Class Leader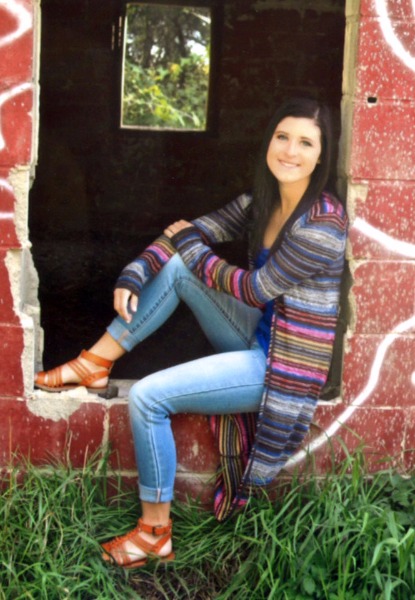 Hannah Sieperda was born on September 22, 1997. Her parents are Steve and Diane Sieperda. She has a younger brother named Gable and a dog named Metcalf.
Hannah has kept busy during her high school career. She has participated in many athletics: cross country, cheerleading, wrestling (as manager), golf, dance team, and softball. In golf she had the honor of playing at All-Conference, All-District, and All-State. Along with that performed in Shrine Bowl, Honor Squad, All Stars, and All State Cheerleading.
She also stays busy outside of athletics. She has played a part in Student Council, TATU, mock trial, band and jazz band, and the backpack program. Hannah is also a member of the National Honor Society. Outside of school she is a member and secretary of the Third Avenue Youth and a United Methodist Sunday School teacher.
Hannah's schedule doesn't stop this year as she is taking physics, band, Spanish IV, human anatomy, medical terminology, AP calculus, college composition, government, and economics. After high school she plans on attending the University of Iowa for pharmacy. In ten years she sees herself working in a pharmacy somewhere in a city.
Hannah's favorite movies are "The Longest Ride" and "Blackfish." She listens to the music of Lana Del Rey, MisterWives, Justin Bieber, and Cody Simpson. Maroon or black round out her favorite colors. She loves the books "Private Secrets" and "Gone Girl." Her favorite food is cheese; her favorite drink is Gatorade. She enjoys science classes. Her most watched TV shows would be "Gossip Girl," "One Tree Hill," "Friday Night Lights," and "The Office."
Her most memorable moment in high school was making it to state golf and on the all-state cheer team. If she could spend one day with anyone, she would chose her Great Grandma Margaret Sieperda. She would chose her because she always had the best stories. She gives these words of wisdom, "Do what makes you happy."
~written by Kathryn V