Nash Knobloch
Best Dressed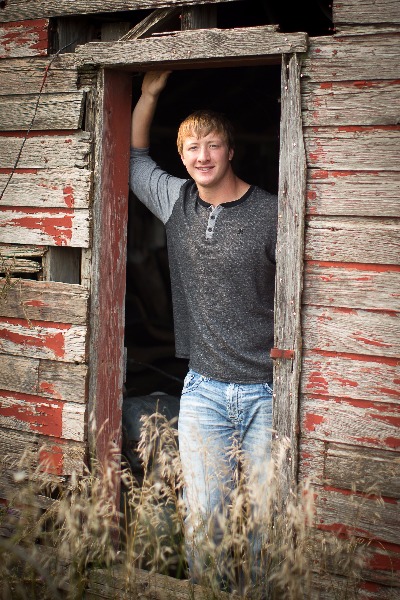 Nash Daniel Knobloch came into the world on September 21, 1997. His parents are Dan and ReJean. The rest of his family includes two brothers, Nate and Nedd, three sisters, Josie, Sadie, and Maddie, one sister-in-law, Ashley, two brothers-in-law, Blake and Trent, and two nieces, Kate and Reagan.
Nash has kept a busy with sports and academic activities. He was a team captain for both basketball and football this year. He played both sports throughout all four years in high school. Nash has stayed active in the Ag field. He is the FFA President this year and has been a member all four years. In addition to FFA, he was on the Ag quiz bowl and in Rube Goldberg. He also is a two-year member of the National Honor Society. Through his activities he has gotten some honors. Honors for football include MVP Linemen All-district and 2nd team all-state defensive end. He has also been a Lyon County Pork Ambassador. Outside of school he is an Apostolic youth group member.
Nash's schedule includes government, economics, physics, shop, Ag business, novel, and work study at Moon Creek Veterinary Clinic. His future plans are to attend Minnesota West Community College in Worthington, MN, or South Dakota State University in Brookings, SD, to get a degree in Ag business/management. Ten years from now Nash sees himself married and enjoying family and friends while working in the agriculture field.
Nash enjoys watching "Remember the Titans" and "Friday Night Lights." He listens to country music. His favorite subject is science. Nash finds that grey is his favorite color. He loves to eat steak as it is his favorite food. His favorite book to read is "Gym Candy."
The most memorable moment in high school was, in his words, "killing West Lyon in the last TWO beef bowls." If he could spend the day with any person, he would spend it with his twin sister Mattie. He would choose her because they always have fun. Nash's advice to the underclassmen is to be a leader.
~written by Kathryn V