Treyton Virtue
Talented Treyton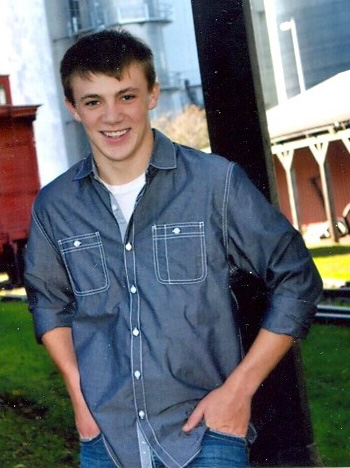 Treyton Virtue was born on April 9, 1998, and he is now seen walking the halls of Central Lyon. Treyton's household consist of his mom Amanda, his step-dad Chad, his sisters Addison and Americus, and his brothers Lincoln and Cael.
For his senior year, Treyton has kept himself busy with anything from work study at the police station to wrestling. He has been involved in four years of wrestling, two years of football, and one year of golf. His favorite memory was from wrestling during his junior year when Central Lyon made it to state, and Treyton got to wrestle in the Wells Fargo Arena. This school year Treyton has taken work study, government, economics, art classes, basic writing, and business and consumer math.
Treyton has a variety of favorites. His favorites include the color blue, pizza, the movie "Foxcatcher," the book "The Silent Gladiator," the TV show "Dexter," and his favorite subject is work study.
After high school, Treyton will be attending Iowa Lakes Community College for criminal justice and wrestling. If Treyton was asked where he would see himself in ten years, he would say working as a cop. Through his four years of high school, Treyton has experienced a lot, and his words of wisdom to the underclassman are "Have fun. Be happy."
If Treyton could spend one day with someone living or dead, he would choose Dan Gable because according to Treyton he is one of the best wrestlers ever.
~written by: Liz D