Pete Menage
Best Smile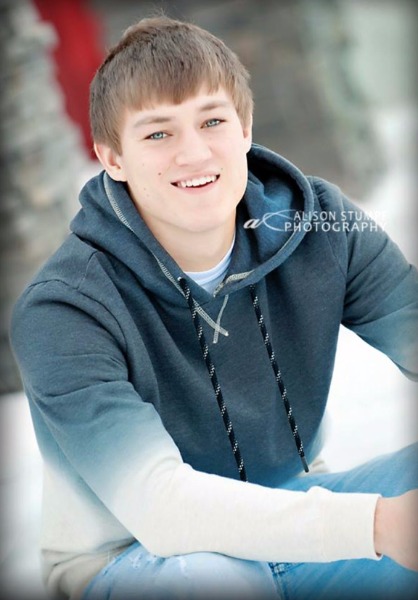 On May 13, 1997, Pete Menage was born. His family is his dad Tom, mom Amy, sister Paige, and his dog Tori.
Pete has stayed very busy in his high school career. He has participated in football, basketball, baseball, and track for four years. He also has been in choir and jazz choir for four years. His senior year he joined TATU and Student Council. Finally, he has been on National Honor Society for two years. Along with all his activities he has a very full academic schedule. He is taking sociology, choir, and anatomy, foundations of education, government, calculus, work study, directed observation, college composition, Novel I, and economics. His favorite subject is American history.
Besides his school related activities, Pete helps with the backpack program and is the treasurer of the Third Avenue Youth Group. His list of favorites definitely shapes his personality. His favorite movies are the Star Wars Trilogy, and he likes to listen to anything country. Pete likes the colors purple and gold, and his favorite book is "Uncommon" by Tony Dungy. Pete's favorite meal is rib eye steak, his mom's potatoes, his Grandma Karen's cookies, and mint chocolate chip ice cream. His final favorites are the TV shows "The Office" and "Law and Order," playing football, and watching Jesse play NHL on Xbox and laughing.
After high school, Pete plans on attending South Dakota State University to major in education and to play football for the Jackrabbits. In ten years he sees himself coaching college football somewhere. He hopes to be coaching for the Alabama Crimson Tide so he can make the big bucks. In high school his most memorable moment was his whole senior year football season. This is his favorite because "Nobody believed in us except for us, and we rallied together through injuries and turmoil to put up a heck of a fight in the state quarterfinal game."
If he had to give advice to underclassmen it would be to "Pick your head up out of your phone, take the head phones off, and smile at people. Say hi, make new friends, and don't be afraid of high school. Embrace it."
If he could pick anyone to spend the day with, it would be his whole family: both sets of his grandparents, all of his uncles, aunts, and cousins. He chose those people because "They are the ones that are with you from the start and the ones that are really in your corner."
~written by Jenessa H