40 Book Challenge/AR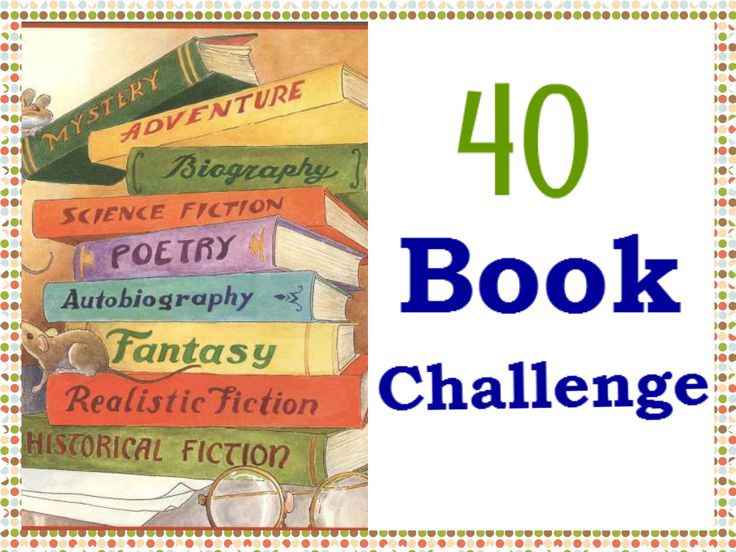 The 40 book challenge was such a success last year that we are doing it again!!! What is it? Here is some information...
40 Book Challenge:
This year we will be doing the 40 Book Challenge. I am challenging all students to read at least 40 books this year (on or above their grade level). Books do not have to be chapter books, however, they should NOT be easy readers. Once a student has read his/her book, they may choose one assignment/activity to complete about the book they read. Once they turn in their "assignment", they may add it to their personal chart in class. Throughout the year, we will celebrate student successes with pizza parties and activities.
Assignments:
Students have three choices in order to have their book "count" towards their 40 books. 1: They may take the AR test that goes along with their book; 2: They may conference with me one-on-one to prove they read and understood their book; 3: They can do a book talk in front of the class. As the students progress through the year, we may add more activities. Students may still take the AR test if they decide to do option 2 or 3.
Update: 1st Quarter is just AR testing. We will add the other activities as the year goes on.
Celebrations/Prizes:
Every time a student passes an AR test or "checks-in" a book, they get to "spin" for a BINGO. The kids each have their own
BINGO card, and once they get a bingo, they get a prize. Some of the prizes are "extra credit", "free time", "free computer time", "no homework" pass, "chew gum" and many more. Most students have eyes on what prize they are working for.
If you have any questions regarding reading goals, please reach out to me.