Sensational Sydney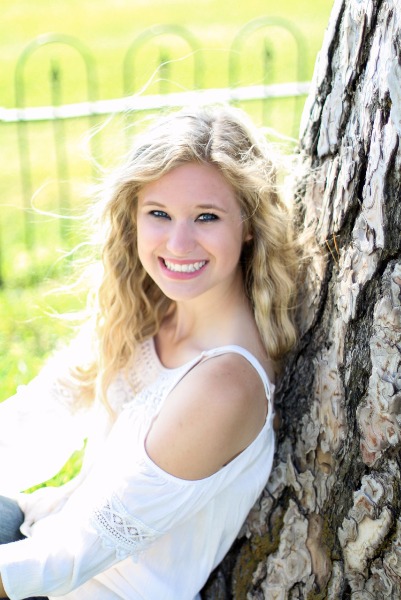 On September 3, 1998, Kyle and Rochelle Ebel were blessed with the arrival of their first daughter, Sydney Ebel. She has one younger sister, Samantha.
Sydney has had an extremely busy high school career, participating in sports, music, and speech activities. She has enjoyed participating in varsity football cheer, varsity basketball cheer, and golf. For all four years, Sydney has been involved in music, taking part in choir, swing Choir, jazz choir, band, and jazz band. Acting is one of Sydney's passions, and she has shared that love through Large Group and Individual Speech, the Fall Musical, and the May Term Play. She also participated in Mock Trial her freshman year. She is involved in her youth group at First Reformed Church.
This senior has rigorous classes in her final year. She is taking AP Spanish, anatomy, journalism, government, economy, college composition, developmental psychology, and abnormal psychology. Her future plans are to attend college to study psychology. When asked where she sees herself in the next ten years, she replied, "Happy."
Sydney has quite a few favorite things. She loves the movie "The Fox and the Hound." She likes to eat cake and watch "The Flash," "Glee," and "The Fosters." Her favorite color is black, and she enjoys studying history. Sydney is an avid reader, and her favorite book is "Breathe, Annie, Breathe." She doesn't have a favorite type of music and will listen to anything. If she could spend one day with anyone, she would spend it with Chrissy Teigen because she is funny on social media, and Sydney would like to find out what she is like in real life.
Sydney's words of wisdom to the underclassmen is that "it goes way faster than you think it will. Make it count."
~written by: Dominique K