Taylor Geerdes
Miss Mascot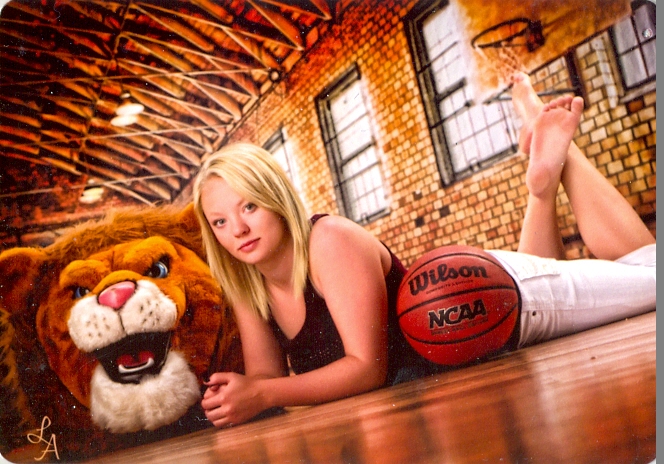 If you happen to go to almost any Central Lyon sporting event chances are you will see Papa Lyon in attendance, stuffed way deep down in that Papa Lyon costume is Taylor Geerdes. Taylor is involved in many things besides being the official Central Lyon mascot, these include basketball, volleyball, track, 4H, and Choir, including solo and honor choir. She is also Thundair, the Mascot for the Skyforce in Sioux Falls. She also races in the local figure 8 racing series. She is also involved in 4H and attends the Faith Baptist Youth Group.
Supporting her through her busy schedule is her family, this includes her dad Chad, her mom Shanna, her two sisters Allie and Lauren, and last but not least her dog Thunder. Not only does she have a busy personal schedule, her school schedule is daunting as well. This year she is taking choir, geometry, personal finance, consumer business math, public speaking, economics, college composition, western civics, single survival, and child development.
Even though she was born in the 90's (4/30/98 to be exact) her music favorites are a little older than that, being that her favorite music is 80's rock, her favorite band of all time are the Gun's N' Roses. Amongst her favorite music are some other favorites, for instance she loves the colors silver and orange, enjoys flipping the pages on the book " the rescue" by Nicholas Spark while eating nachos. She also enjoys kicking it and watching either her favorite move "Transformers 4: Age of Extinction" or her favorite t.v. show "Call of the Wildman".
In the future she hopes to either become a game warden or pursue her dream of becoming a professional mascot. In ten years she hopes to be well under way with one of her dreams and also have a family.
Looking back on her high school career she realizes that her favorite high school moment was when she won hippie day for homecoming week and when she went down with her team to state volleyball. She would tell all the incoming highschoolers," Don't worry about drama and who you friends are and aren't. I also would say that don't go day by day worrying about your appearance, do things to embrace your inner self".
Written By Danny K.