Cat Lady!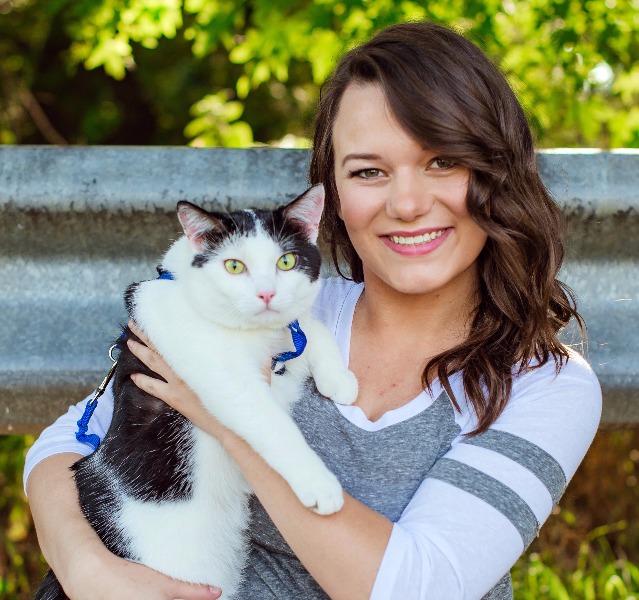 Samantha J. Anderson was born to Angie Henriksen and Gary Anderson on May 15, 1998. Dave Henriksen is her stepdad. Samantha has four siblings: Justin Sheehan, Courtney Sheehan, Leif Henriksen, and Kalecho Henriksen. She also has 10 cats! Their names are Parrot, Webster, Jazmin, Fuzzy, Pheasant, Jupiter, Mascara, Mystery, Junior, and Sylvester. At the Rock Rapids Health Centre, Samantha works as a CNA.
This year Samantha is keeping busy in class. She is taking lots of fun classes: painting, single survival, and ceramics! That being said, consumer and business math, foundations of educations, anatomy and physiology, health, economy, government, and reading American literature will be keeping her on her toes!
Samantha's favorites are as enjoyable as her personality. "Homefront," "Four Brothers," "Varsity Blues," and "Straight Outta Compton" are her favorite movies. Blue is her top pick on colors, and she loves fast food! Samantha's go-to TV shows are "Law & Order: Special Victims Unit," "Grey's Anatomy," and "One Tree Hill." It's no surprise that her favorite animal is a cat!
When asked what her most memorable high school moment was, Samantha replied, "I was using an electric sander in the shop my sophomore year during Flip It. When I was done, I set it face down on the table. It was off, but it was still spinning. It spun off the table!"
Samantha is still undecided on the exact career she wishes to pursue, but she does know that she wants to work with people. She is looking into careers in nursing, criminal justice, and social work. In 10 years Samantha sees herself living in a decent size town and content in a career. Samantha wants to be living with her 2-30+ cats.
Her advice to all the younger kids out there is to figure out yourself before you try to figure out someone else.
written by Sydney E.