Fall Athletic Success
Cross Country & Volleyball go to State
This fall sports season was nothing short of what we have come to expect from our Central Lyon programs and its student athletes and coaches. Although each year it seems we lose a number of key contributors from each squad, our returning participants do an excellent job preparing and working towards finding roles that will make them and their teams successful. With guidance from our strong coaching staffs, Central Lyon again has put themselves in position to make a run into the postseason as we look back on strong performances during our regular season competitions.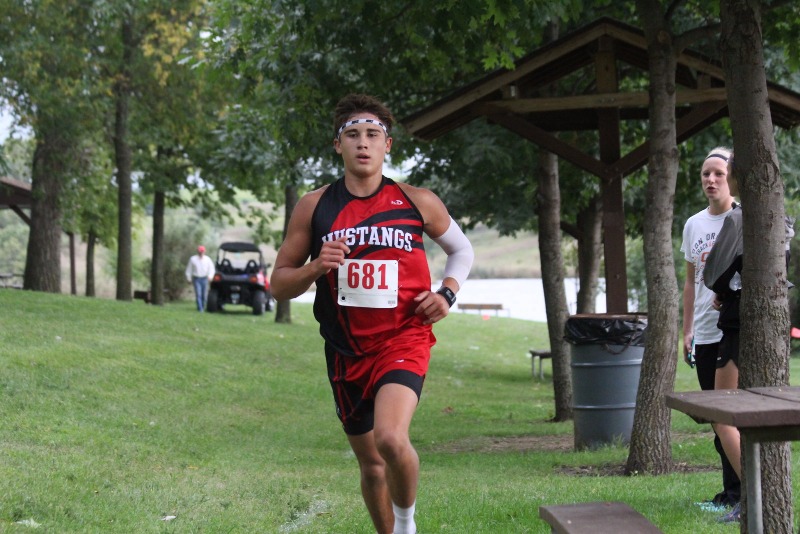 Launch the second image gallery player
Gable placed 3rd individually at state.
It wouldn't be Fall unless we were experiencing cross country success and getting ready to send some athletes down to Fort Dodge which is exactly what we're doing. The Central Lyon/George-Little Rock runners have done their usual competing at the highest level all season long. The girls won one meet and had two all-conference runners, Makayla Witt and Lexie Ramsey, while the boys won five meets and the Siouxland Conference. All conference runners for the boys were Joe Anderson, Blake Johnson, Austin Henning and Gable Sieperda; who was also the Conference champion. These same boys along with Luke Schriever, Taeron Olson, and Josh Haken qualified for state finishing 3
rd
at Districts this past Thursday, Gable the district champion and Joe Anderson the runner-up. This boys group will head down to Fort Dodge to compete Saturday October 30
th
. What a great season by both the boys and girls and we wish the boys the best of luck as they strive to outrun the competition at state.
Update: Gable placed 3rd, Joe 6th, and the team 4th at state.
Lions volleyball is yet another program that has continued its winning tradition, again proving to be a powerhouse in Northwest Iowa volleyball. The Lions ended regular season with an astounding 27-4 record, finishing second in the Siouxland Conference. Leading the way this season has been a group of talented and experienced seniors who know what it takes to win. According to Coach Schar, the topic of conversation throughout this season has been "energy", and our team success is a direct reflection of just that. The group is excited for the postseason and will play hard each match hoping to make that drive to Cedar Rapids for the 4th year in a row. Postseason play started with a hard-fought 3-2 win Monday night against rival West Lyon in the second round of regional volleyball action. Good luck ladies in tournament play! Update: CL qualifited for state competition, which will begin Wednesday, November 9, at 4:00pm.
On the gridiron, our Central Lyon/George-Little Rock football team has gone an impressive 7-2, finishing just shy of a district title. After an early season defeat, the Lions reeled off an impressive seven victories in a row to solidify a playoff berth. "It has been great to watch a lot of our young players' progress as the year has gone on," says Coach Lorenzen, "and with a playoff berth secured-the Lions hope to make a run in this year's Iowa High School Football Playoffs." The Lions have been selected to play Kuemper Catholic, Carrol this Friday, October 28, in Denison, Iowa. It is with great hope that as many Central Lyon/George-Little Rock fans can make the trip south to support our team and watch our players and coaches compete to keep the season alive. Update: CL/GLR end their season with a loss to Kuemper Catholic 20-21.
It's evident we have had a great deal of success already this school year, but the success doesn't necessarily stop here. Our teams and individuals have worked very hard and as a fan base we must do our best to stay energetic and continue supporting our students and coaches as they compete to be the best in Iowa. Good luck to all those in the postseason and thank you for continuing to represent Central Lyon and George Little Rock both on and off the field, court, and course!