Paige Victoria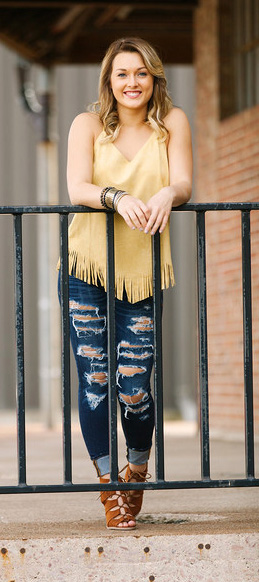 Paige Menage is the beautiful daughter of Tom and Amy. She was born June 16, 1999, making Pete an older brother. The family also has a dog, Tori. Among other things, Paige has been involved in cheerleading her entire high school career. She played volleyball her freshman year, has run track for 2 years, and participated in international club for 2 years. In our community Paige is a member of the United Methodist Youth Group, and has gone on mission trips with them.
This year Paige is taking many different classes to keep busy. The classes include advanced math, college algebra, sociology, public speaking, economics, government, college composition, ecommerce, and single survival. After she graduates, Paige plans on attending college to study business marketing. In ten years she sees herself graduated from college, in a relationship, with a great job, and doing well in life.
Paige's most memorable high school moment was placing in the top three spot in Iowa State Cheerleading the three years she did cheer dance. Her advice to the underclassmen is to try to care, even though it's hard.
Paige's favorites are as fun as she is; "Burlesque" is her top movie pick. Country and pop are her favorite types of music. Her top color choices are maroon and olive green. Paige is always down for eating pasta, and watching "Grey's Anatomy." Finally, her favorite subject is math.
written by Sydney E.