Student Council President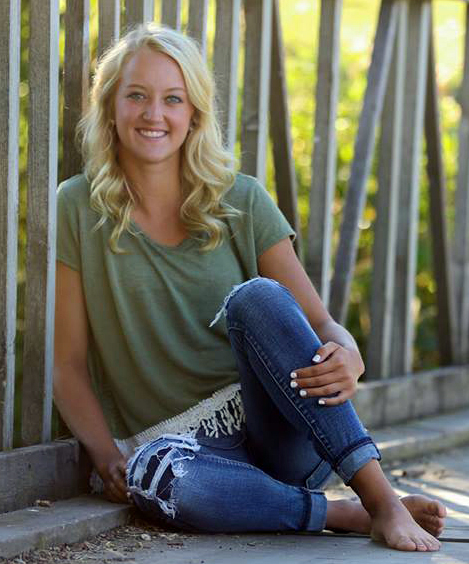 Becca Roskam was born on July 10, 1998, to Richard and Denise. She has two older brothers, Drew and Carter, and a dog, Zoe. She is a member of the Sr. RCYF and Girls League of First Reformed Church, and has been a Vacation Bible School crew leader, Pioneer Club helper, and a Sunday School helper. Becca has also gone on multiple mission trips.
In school Becca is a member of NHS, TATU, book club, and international club. She sings in the jazz choir, swing choir, and the chorus. Becca is a four sport athlete, involved in volleyball, basketball, track and softball. She is also a four-year member of the student council, holding the position of secretary her sophomore year, vice-president her junior year, and president this year.
Next year Becca plans to go to UNI and major in K-8 education with a special education endorsement. Looking even further into the future, she sees herself living life to the fullest and just being happy. Given the chance, Becca would want the opportunity to spend a day with Ellen DeGeneres, laughing at how hilarious she is.
Becca has received many honors throughout high school. She was KMEG's Above and Beyond Student of the Month, and Central Lyon's Student of the Month. As a sophomore Becca was an Honorable Mention during volleyball, and this year she was named 3rd team all-conference.
Becca's favorite movie is "Despicable Me." She likes to listen to Christian and country music. "The Selection" is Becca's favorite book. She's always down for eating steak and loaded mashed potatoes and watching "Greys Anatomy."
Becca's most memorable high school moment was making it to the championship game in volleyball by beating Janesville in a five set thriller her sophomore year. When asked to give advice to underclassmen Becca's answer was "Central Lyon has many activities that you can be involved in. Step outside of your comfort zone and try something new because you're only in high school for four years, and those four years go by quicker than you think."
-written by Sydney E