New Robotics Design
In addition to Robotics Club designing a new robot, this year they had Mr. Gerleman design new t-shirts. The design is available on short or long sleeved t-shirts, plus hooded sweatshirts.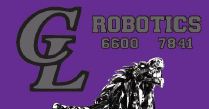 Launch the second image gallery player
Available in t-shirt or hooded sweatshirt.
Each year, the team must build a robot to perform specific tasks, which then competes against other teams. This year's robotic challenge | game is called relic recovery, and more information can be found here: www.firstinspires.org/robotics/ftc/.
We thank Mr. Gerleman for the professional t-shirt design, as we will be the best-dressed geeks at the next meet! Our next meet is December 16 in LeMars, and the Northwest Iowa Regional will be in January.