Gable Sieperda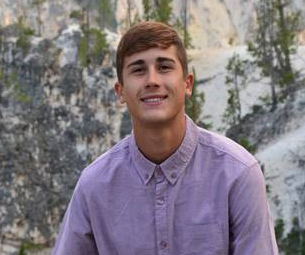 On August 1, 1999, Gable Sieperda was born to his parents Steve and Diane Sieperda and his sister, Hannah. Gable also has two dogs in his family, Metcalf and Gilman.
Gable has been very involved in high school while participating in wrestling, baseball, track, cross country, mock trail, FFA, and student council. He is also a member of the 3rd Avenue Youth Group outside of school. Gable's schedule this year includes challenging classes such as: Accounting, Physics, College Composition, Economics, AP Calculus, Spanish IV, and Strength and Conditioning.
Some of Gable's favorite things include the movie, The Notebook, the book, The Invention of Hugo Cabret, the subjects, Math and Science, and the TV show, The Office. Gable's favorite foods are ice cream and cheesecake, and his favorite color is cyclone red. He also enjoys listening to music by 21 Savage, John Denver, and Johnny Cash, and he likes playing the game Fortnite on XBOX ONE.
After high school Gable plans to attend Iowa State for entrepreneurship. His most memorable high school moment is winning the Iowa State Cross Country Meet this 2017 season as team. Gable's advice to underclassmen would be, "Do what you love to do, and do it to your best ability."
Written by Callie Yeakel