New York Times Best-Selling Author Speaks to Class
Etched in Sand Author Regina Calcaterra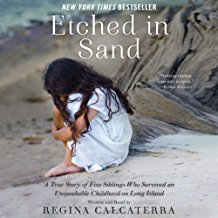 The eighth grade literature class concluded the year by reading a non-fiction book of their choice. Students read a variety of books including topics of history and personal memoirs. They were also in charge of creating a book unit and final presentation to go along with their reading. Student Michaela Robbins chose to read the non-fiction book, Etched in Sand, which is a memoir about the author Regina Calcaterra's childhood growing up in an abusive environment.
At the completion of her book, Michaela asked me if it was okay to try to contact the author for her final presentation. Of course, I said, "Go for it!" Not only did Michaela get ahold of the author, but the author also offered to speak to our eighth grade class about her journey as a child struggling to get by to her current career of being an attorney at the Wolf Haldenstein Law Firm in New York, New York.
Regina Calcaterra shared with our class a positive message of resilience and perseverance, and I am so proud of Michaela for going out of her comfort zone to contact her. It was well worth it. View the video below to hear the author speak. I encourage you all to read Etched in Sand.