Mr. Allen's Homepage
I have been teaching at Central Lyon since 2009. I teach Physics, Physical Science, Earth Science, Principles of Engineering and AP Chemistry. My page is currently under construction. Please contact me with any questions or concerns, and check back throughout the year as the page will continually be updated.
Space Settlement Design Competition Project PowerPoint Presentations
Throughout the second semester, the Central Lyon Physical Science students have been using concepts learned in class to design a space settlement. Their requirements were to design a settlement capable of continuous Mars to Earth to Mars orbit. Their settlement had to be able to support a maximum population of up to 7200 residents. Some would be permanent residents while others would be on their way to and from Mars. The expected duration of a one way trip was to be 9 months, so many different factors had to be considered, such as entertainment, education, exercise and living quarters, to name a few. Below are the three presentations completed by the three sections of Physical Science. The students worked hard as a team and did a great job thinking outside the box.
Space Settlement Design PowerPoint 3rd Hour
Space Settlement Design PowerPoint 7th Hour
Space Settlement Design PowerPoint 8th Hour
University of South Dakota Coding Competition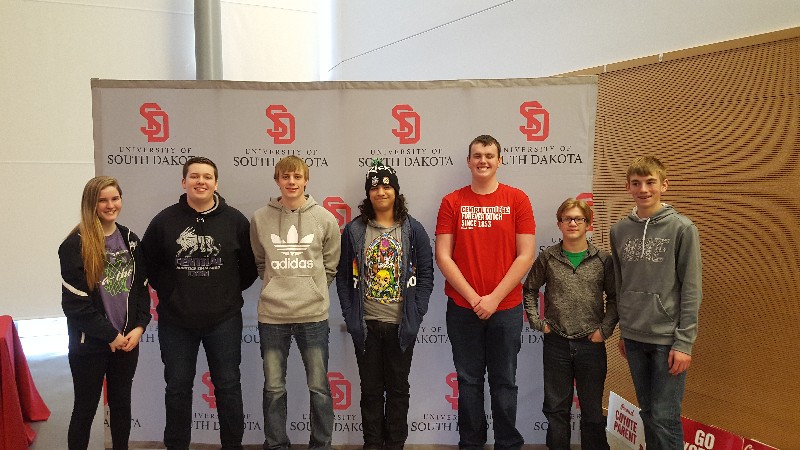 On Thursday March 30, seven Central Lyon Robotics students participated in an Activity Bot coding competition at the University of South Dakota in Vermillion. 35 schools were registered from South Dakota, Nebraska, and Iowa. Central Lyon placed 13th and 17th for the day, and both teams came away with ideas to incorporate in to next year's robots. Students who attended were Mitch Haselhoff, Michael Stillson, Jacob VanVeldhuizen, Jaylen Klein, Rhiannon Keegan, Taeron Olson, and Ben Van Aartsen. After the competition, the students had the opportunity to learn more about computer science majors and the job outlook for those interested in a computer science degree. The students also were given information on a new dual credit class USD will offer online starting this fall. Interested students can now take a 3 credit Introduction to Computer Science course through USD that normally would cost $780. USD is offering the course to high school students for $120. Students will still need to purchase their own text book. If interested, students or parents can contact Jessica Harman or myself for more information.
Robotics Club/ Class Update 2016-17
This year's robotics club will be competing in the FTC 2016-17 Velocity Vortex. FTC Iowa, which stands for First Tech Challenge, is a program open to students in grades 7-12. At Central Lyon, we have a team competing composed of students in grades 9-12. We also offer robotics to juniors and seniors as part of our Principles of Engineering Class in alternate years, which began in the fall term of 2014. This year, we are members of the Olson League. We will compete in three league meets in October, November, and December, and our League Championship will be held on January 7 in Sioux City. Four teams from the League Championship will qualify for the State Championships in Iowa City February 24-25, 2017. Thirteen teams from the State Championships will then qualify for the North Super Regional to be held in Cedar Rapids later in March. From there, a select number of teams will move on to the World Championships to be held in St. Louis at the end of April. Our three league dates and locations are listed below. If anyone is interested in learning more about FTC robotics please contact Bill Allen at ballen@centrallyon.org.
October 29, 2016 League Meet
November 19, 2016 League Meet
December 17, 2016 League Meet
January 7, 2017 League Championship
February 4, 2017 **NEW** Superqualifier Tournament - additional opportunity to qualify for the state championships.
February 24, 25 State Championship
Click on the link below for a video describing this year's challenge along with other information about FTC Robotics.
https://www.youtube.com/watch?v=MCQ_pgSw_-8
Robotics Club at Central Lyon
As of October 2012, Central Lyon now has a robotics club. Our objective this year is to build a robot capable of competing in the FIRST FTC Robotics Competition regional held at Sgt. Bluff, Iowa on February 9, 2013. This year's competition is called Ring It Up. Our robot will score points based on the number of rings it transfers to pegs of varying heights in a timed session. There are two phases: 1) Programmed Phase and 2) Driver Phase. We are busy meeting two nights a week after school on coming up with a workable design and build. Below is a link to YouTube and a video describing the competition.
Ring It Up Robotics Competition
NASA Space Settlement Design Competition 2012
March 15-19, 2012, seven students from Central Lyon went to Houston TX and Johnson Space Center to compete in the National Space Settlement Design Competition. The seven students were: Luke De Jong, Seth Hoogendoorn, Andrew McCarty, Coryn Van Beek, Eric Clasen, Shawn Van Bruggen, and Caleb Schriever. These students were chosen through an application process that focused on GPA, Course completion and in the science and math fields, and essays written by the prospective students.
This year's competition asked the students to work with others from Iowa and the Houston area in Texas to develop a Request For Proposal to design and build a settlement capable of supporting a population of 10,500 residents on the surface of Mercury. This year's interesting twist involved the fact that Mercury's surface is too hot during the day and too cold during the night for a settlement to exist. In order for their mining settlement to survive, they had to design a settlement that would move with Mercury as it rotated on its axis, keeping the settlement in the Terminator Zone (where sunrise or sunset would occur).
All seven students represented Central Lyon well. As their chaperone, I was extremely impressed with the students' commitment to the competition, even though the competition is designed to be very stressful at times. The students had a little less than 24 hours to complete the RFP and develop a presentation for the judges. All seven of our students contributed more than their share of knowledge and effort to their groups' final presentation. Below is a slide presentation of some of the pictures we took while on the trip.
NASA 2012 Slide Presentation 1
NASA 2012 Slide Presentation 2
Rube Goldberg 2012
On Friday, February 10, 2012, the high school physics class competed in the regional Rube Goldberg competition at Minnesota State University, Mankato. This year, we took two machines to the competition. Our challenge was to build a machine that would blow up and balloon and pop it. In the spirit of Rube Goldberg, each machine must use a minimum of 20 steps. A step is considered to have occurred if a transfer of energy took place. Our teams worked hard leading up to the competition on their machines, and we look forward to displaying them during the PTC Supper in March. Below is a link to the photo page from the competition.