Notice to Parents
Friday, March 8
Dear Central Lyon Families & Staff,
It's hard to believe it has been eight weeks since students last attended classes in person. Next week we will conclude distance learning, and school for 2019-20 will officially come to an end.
Class of 2020 Parade & Retiree Recognition
It's fitting we will close the school year with a parade – I hope your family will join us in celebrating the 56 graduates of the Class of 2020 along with the four (4) staff members who retiring. Please find the details of the parade below:
Date & Time: Friday, May 15, at 6:00 p.m.

Parade Route: see below

Begin: High School Parking Lot

Route: South on Greene Street – West on 12th Ave – North on Carroll St – East on Hwy 9 – South on Tama St – West on 12th Ave

End: Elementary Parking Lot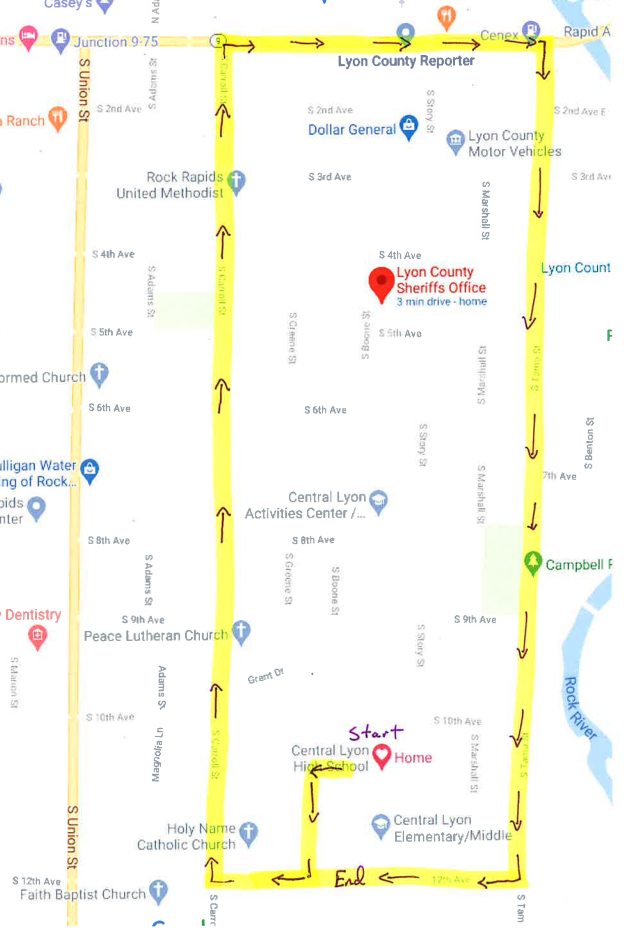 The Class of 2020 should have received a message from Mr. Engleman today with more specific details about the parade. I'm hoping all 56 members of the graduating class will be able to recreate the processional of our traditional commencement exercises by traveling through our community. For this reason, we are asking that students drive their own vehicle or their family serve as their chauffeur for the parade. We do NOT want students to ride with their peers.
Along the parade route, Central Lyon's four retirees – Kay De Groot, Marla Freese, Mark McCarty and Laureen Schram – will be stationed for recognition. We hope our families and community will join us in celebrating their combined 89 years of service to students, families, staff and our community.
While we are hoping for a beautiful evening for the parade, please do your part to maintain social distancing recommendations from public health during the parade. We will adhere to the same recommendations as instituted during the "Fill the Loop" activity of the past month. Families along the parade route are encouraged to sit in their front yards and hail the graduates, while others are urged to cheer from their vehicles along the parade route. Some potential viewing locations include:
12th Ave: Central Lyon Elementary Parking Lot & Holy Name Catholic Church

Carroll Street: Holy Name Catholic Church & Rock Rapids United Methodist Church

Hwy 9: Public Library Parking Lot, Sunshine Parking Lot, park facing west along Hwy 9 from Public Health building to Papik Motors
Grab & Go Meals to End Friday
I also want to remind you that our grab-and-go meals will end next Friday, May 15.
Meals will continue to be available for pick-up in Rock Rapids at the Bus Garage (603 S 2nd Avenue East from 11:15 a.m. to 12:00 p.m.) or the Soccer Field Parking Lot Entrance (1100 S 4th Avenue from 12:00 p.m. to 12:45 p.m.). Students and families in Doon may still pick-up meals at the public library parking lot (from 11:30 a.m. to 12:00 p.m.), and meals will continue to be delivered to those living outside the city limits of Rock Rapids and Doon.
Today we eclipsed the 7,000 total meals served milestone. Thank you to the individuals and businesses who have financially supported the meal program.
Happy Mother's Day
Sunday is Mother's Day, and on behalf of our students and staff, I want to wish all the moms a very joyful Mother's Day. Thank you for your unconditional love, endless patience, and well-timed words of encouragement. Over the past 50 days you have assumed the role of educator, and we want to thank you for partnering with us in support of your student's academic enrichment. I hope you enjoy a restful and relaxing weekend.
Onward Lions,
Brent Jorth