Cookie Decorating Contest
Batch #8 WINS
Last week, we had a competition between three family and consumer science (FACS) classes for the best decorated sugar cookies. The classes that were involved in the contest were two sections of Foods 1, Single Survival, and Creative Living with a combined 40 students. FACS teacher Mrs. Christensen chose the "World's Best Sugar Cookies" recipe from LaVonne Lupkes because it makes very pliable dough and doesn't require chill time. She wanted the students to practice kitchen math by cutting the recipe in half, applying the cooking knowledge they had, searching the internet for a frost recipe to use to decorate the cookies, using their creativity skills, and most of all she hoped the students were having fun with the recipe.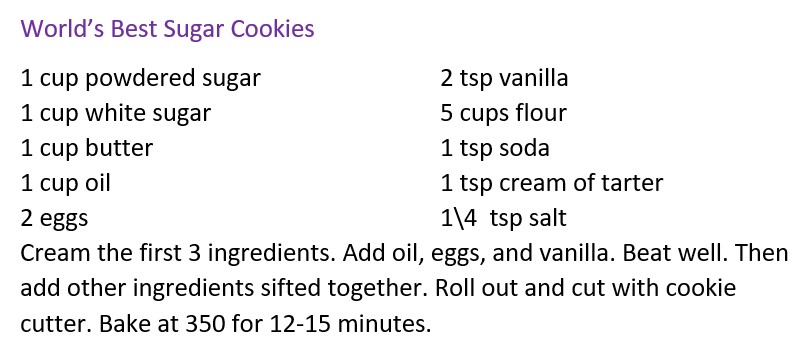 The recipe used was from LaVonne Lupkes' cookbook. LaVonne was widely known as an excellent cook and baker, but it was her fortunate family who reaped the rewards of her love for baking. They all have great memories of her cooking and baking; according to her youngest son Tommy, "She loved to cook and was very good at it, that is why I am still overweight today!" All the family members have a favorite meal or dessert; Jim's was her chicken dumpling soup and believes that she had to bake because her kids ate her out of house and home! Sandi's favorite was her rhubarb jam and sugar cookies and stated that LaVonne was an old-time farm wife back when it was common to cook, bake, can. Stan's favorite meal was her homemade pizzas, Tommy's was her split pea soup, Tracy's was her homemade chicken soup, and Kyra's was her French dip sandwiches. But all the family members agreed that LaVonne's cake scraps were the best. LaVonne was a cook mostly for the farm but, she also worked as a cook at many other places such as Sanford Hospital in Rock Rapids, Merrill Pioneer Hospital, VA home in Luverne, and freelance baked cakes for wedding, birthdays and graduations. She made the most intricate and beautifully designed wedding cakes. Her daughter Tracy remembers having to make 6 gallons of frosting every weekend before she was allowed to leave the house. LaVonne was also the much respected lead volunteer cook for the annual soup and pie supper at Holy Name Catholic Church. Her talents are missed, but her legacy lives on in her cookbook which can be purchased by contacting any family member.
LaVonne's oldest granddaughter Kyra, who works at Central Lyon, stated "I think all the family would agree that some of the best memories we have of LaVonne are surrounding food and family. Christmas time was always a lot of fun! There was maybe 20-25 of us at the time, but she made enough food for 50. The main meal was her homemade pizzas and soups! There were many appetizers to munch on in case anyone got hungry! It did not matter how much you had eaten or how full you were, but at the end of every meal Grandma LaVonne always asked 'Who wants dessert?'"
The results for our poll for the best-decorated batch, which ended November 13, are below. You can view the contestants in the image gallery at the right.
Batch 8 – 25 votes
Batch 3 – 10 votes
Batch 5 – 8 votes