Historical Plaza
Central Lyon
Historical Plaza
Rock Rapids, Iowa
Planning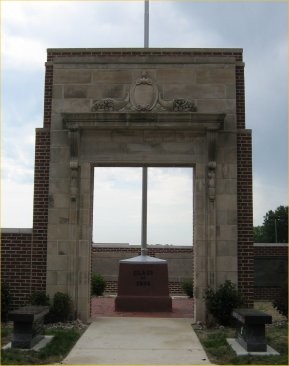 Launch the second image gallery player
"Those who are content to remain in the valley will get no news from the mountains." - Macy "Keep your face toward the sunshine and the shadows will fall behind you." - Whitman
During the summer of 2003, the former high school building was demolished in order to prepare the site for the construction of a new facility to support the activities to be conducted in the remaining gymnasium, weight room, and fitness center. Prior to the demolition of the vacant building, certain artifacts were salvaged from the 1923 structure with the intent that they would be used in the construction of a historic area near the flagpole, which stands at the south end of Boone Street and had been dedicated by the class of 1924. The salvaged pieces include decorative urns form the roof line, two limestone plaques (featuring quotations from Whitman and Macy), two ornate limestone door surrounds from the entrances, and a plaque of dedication for former Superintendent Wynant S. Wilson. All the salvaged pieces were incorporated into the Historical Plaza during construction.
A granite stone and paving brick area surround the base of the flag pole in front of the former high school. The floor of the site has spaces with engraved 4"x8" bricks and 8"x8", 8"x12", and 8"x16" granite pavers. The final touch to the project was the placement of solid granite benches on the perimeter of the patio area.
Those were chose to support this project and preserve some of the history of the former high school building got to have his or her name, a loved one's name, a farm, a business, or family engraved on a brick or granite paver. Major contributions are honored with a name/logo engraved on a solid granite bench to be placed on the perimeter of the area.
Please direct any questions to any committee member or Marla Freese at the Central Lyon Community School, 1010 S. Greene St., Rock Rapids, IA, 51246, phone (712) 472-2664.
Buy A Brick
What the dedicated bricks look like when put together
To fund the historical plaza, a citizens committee launched a campaign to sell engraved bricks and granite pavers that will make up the floor of the plaza. This project is sanctioned by the Central Lyon Board of Education and the funding of the project will be from donations and the sale of engraved bricks and granite pavers.
COST OF BRICKS
$80 Brick - 4"x8" brick with 2 lines of type - 14 spaces per line
$90 Brick - 4"x8" brick with 3 lines of type - 14 spaces per line
$250 Granite Paver - 8"x8" granite paver with up to 6 lines of type
-14 spaces per line
$550 Granite Paver - 8"x12" granite paver with up to 6 lines of type
-21 spaces per line
$1050 Granite Paver - 8"x16" granite paver with up to 6 lines of type - 28 spaces per line

A logo may be added to a brick or paver for $50.00. (Camera ready art must be supplied by the purchaser to take advantage of this option.)
Major contributors of $6,000 or more will be honored with their name, the name of a loved one, or their business name/logo engraved on a solid granite bench to be placed on the perimeter of the area.
For further information, please contact the Central Lyon School's central office at (712) 472-2664.
Make checks payable to : Central Lyon Community School

Mail Checks to:
Central Lyon Historical Project
1010 S. Greene Street
Rock Rapids, IA 51246