National Honor Society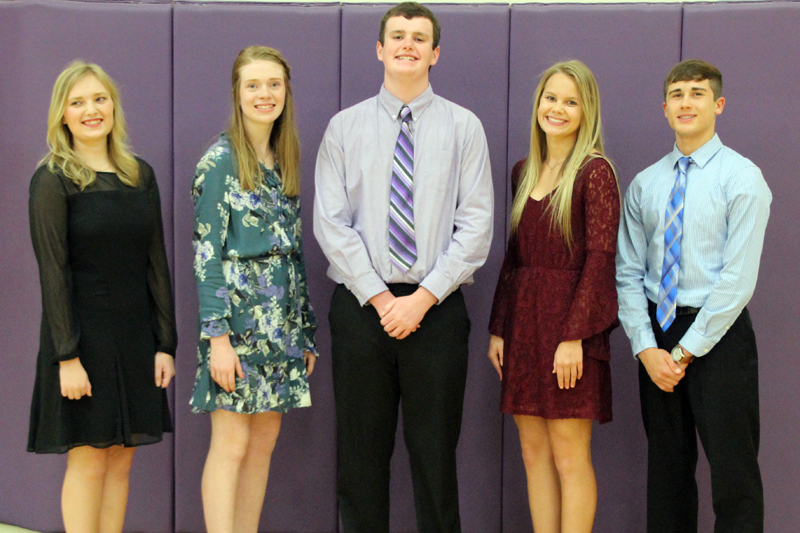 Emily V., Bergin D., Jacob V., Makayla W., and Gable S.
Current Officers:
President- Bergin
Vise President- Makayla
Secretary- Jacob
National Honor Society was created to recognize outstanding high school students. Students must not only get good grades, but also have the characteristics of leadership, service, and character. Applications are due to Mrs. Christensen no later than 12:40 p.m. on Wednesday, October 4, 2017. Click on the "NHS Application" link at the left if you'd like to download and complete it in Microsoft Word. Click here for instructions on completing the application.
---
Tentative NHS Timeline:
3rd week of September: All junior and senior students who are academically eligible for NHS (3.33 GPA or higher) receive their Student Information Forms.
1st week of October: Student Information Forms are handed in to the NHS adviser. 2 nd week of October: All high school teachers fill out a teacher comment sheet on all students who have indicated interest in NHS. (See Teacher Comment Sheet to the right.)
3rd week of October: NHS Faculty Council receive and review Student Information Forms and teacher comments for each student. Then, Faculty Council meet to discuss and vote on each student.
4th week of October: All students who indicated interest in NHS will receive a letter in the mail informing them whether they have been granted NHS membership.
1st week of November: In-school assembly honoring NHS members
3rd-4th week of November: NHS Induction Ceremony
*A few things to note: The faculty council is a rotating committee of 5 high school teachers who remain anonymous. The adviser does not cast a vote in the faculty council meeting. There is no set number of students that make NHS. There is no set percentage either. The council votes largely on the student information form and the comments from all of the teachers; therefore, the number of members vary each year.