4th Grade Assembly Line Study & the Industrial Revolution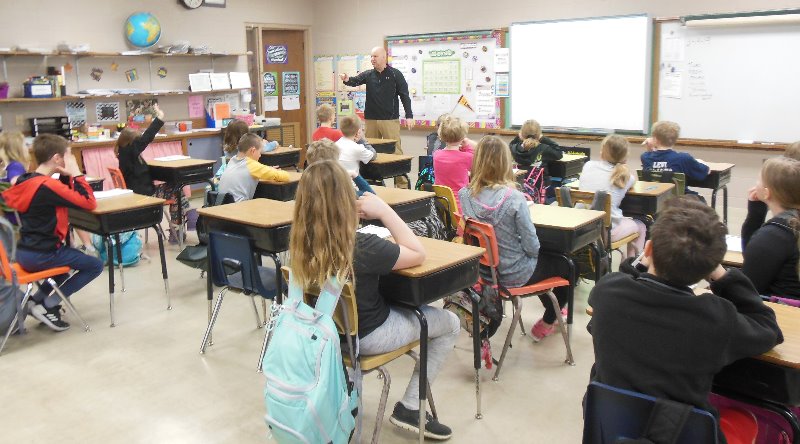 4th Grade Assembly Line Study
The 4th grade classes were studying different events leading up to the Industrial Revolution. Mrs. Schram had an idea to put the students into a situation much like many other individuals were in during the early 1900's. Before the Industrial Revolution, most Americans lived in rural areas and produced their own goods which were needed for everyday life. They produced food, clothes, shoes, along with many other things. These rural areas produced skilled craftsmen who learned their trade over a long period of time. The students learned the quality of work done by the craftsmen was usually excellent, but to produce things like furniture and even cars took a long time to do. Americans wanted products cheaper and faster. The 4th grade students researched different inventions like the power loom, sewing machines, and the automobile led to finding a quicker way to produce goods, the assembly line.
In day #1 of the activity, the 4th graders were to assemble an in-line skate, made out of paper, as fast as possible working as individual craftsmen. Each student was to produce one skate and record their individual time. An average time of the entire class was calculated. Students made observation and commented on the process and quality of the work done by all the individual skates produced by the students. The students comment that most of the skates looked very well made. Personal care was taken to put each skate together. One student commented, 'it took a long time to make one skate. Can we make them any faster?'
On day #2 of the activity, the 4th graders assembled skates again. This time the 4th graders used Henry Ford's idea of using an assembly line to produce their skates. Using the average time for producing one skate from day #1, the student learned when individuals focused on only one part of the skate, more skates were produced. Again, observations were made. Students discussed more skates were produced, but looking at the quality of the skates produced was much different. The students learned how assembly lines worked, and there are products produced better in mass production and some better by an individual craftsmen.
The Pros and Cons for using an assembly line were discuss and recorded by each Student here are two lists of stating them.
Pros Cons
- More products in a short amount of time. - Not many women working in the factories
- Cheaper to buy the products due to large supply - Working conditions were dark and dangerous in the beginning
- More jobs for the people - Workers were watched and timed every second during the day
- Pay was pretty good but very competitive - Got boring = made people quit
- The workers did not have to move... the parts moved to them -