Parking Lot & Track/Football Field Projects
Saturday, May 6, 2023
Central Lyon Students, Families & Staff,
Starting Monday, May 8, construction crews will begin removing the asphalt from the parking lot at the Activity Center and begin moving dirt near the Track and Football Field. This means parking at the Activity Center will be restricted to South 7th Avenue, along the north of the Activity Center. Please DO NOT PARK in the lot at the Activity Center until notified following the conclusion of construction. Similarly, construction crews will begin moving dirt from Story Street to the visitor bleachers and along the south and east of the track. DO NOT PARK along Story Street so that construction crews can continue their work at the track.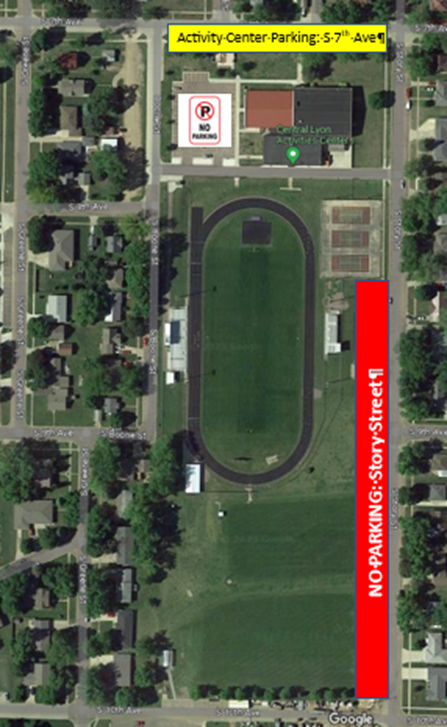 Construction Projects & Anticipated Timelines
May 8: Activity Center Parking Lot Construction Begins
Asphalt Removed

Concrete to Replace with curb improvements
Mid to Late May: Track & Football Field
Dirt Work & Site Prep

Concrete for ADA accessibility from Story Street for visitors to the Track & Football Field

Ticket booth relocated to the north of the visitor bleachers for accessibility to ramp to north of visitor bleachers.
June 5: High School Student & Staff Parking Lot and
Dirt Work & Site Prep

Concrete to Replace all parking surfaces and 10th Avenue bypass

Students & Families

Parking for summer school, summer activities, and day-to-day business will need to occur along Story Street.

The South 10th Avenue intersection of Greene Street will be closed for a significant portion of the summer. Please make plans to enter the school facilities from 12th Avenue or Story Street from the North.

Our ability to limit traffic on the west side of the school facilities will greatly help construction crews during their work throughout the summer!

Staff

Staff should park in the elementary parking lot or along Story Street near the weight room or elementary office for professional learning on June 5 & 6.

Staff may enter the elementary entrances on the southwest and southeast of the building, or their normal entrances from Story Street.

Staff should plan to use these lots throughout the entire summer.
August 15: All Projects Substantially Completed
Thank you for your patience and understanding during our summer construction. Be sure to watch for future updates on the progress of these and other projects.
Onward!
Brent Jorth
Superintendent