National Honor Society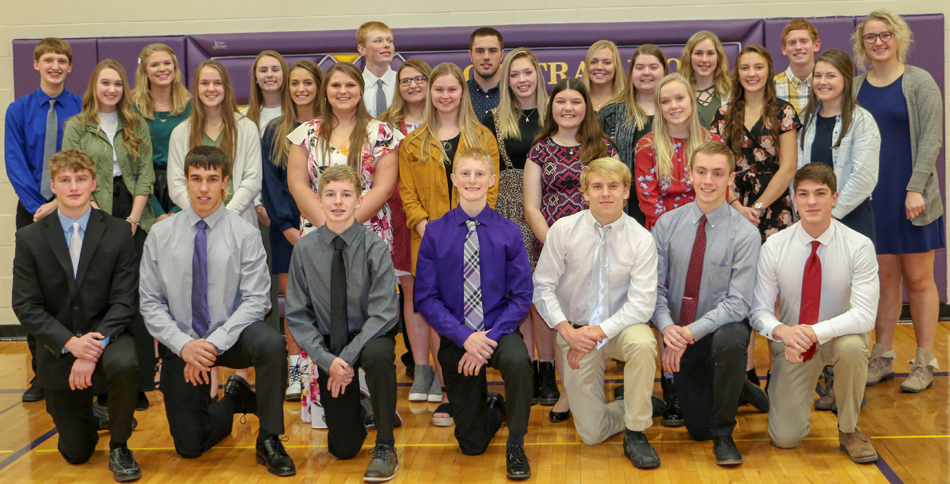 2019-2020 NHS Officers:
President - Dana Kruse
Vice President - Farrah Lewis
Secretary - Kary Ann Knoblock
Treasurer- Shania Struckman
National Honor Society was created to recognize outstanding high school students. Congratulations to the new students who will be inducted to NHS along with the current members: Samantha Ebel, Cody Huisman, Kary Ann Knoblock, Dana Kruse, Farrah Lewis, Kiley Metzger, Sutton Schlumbohm, Shania Struckman, and Kiah Thiessen. For NHS membership, students must not only get good grades, but also have the characteristics of leadership, service, and character.
New NHS Members
Emma Chase
Breyden Dieren
Gracie Duin
Allie Geerdes
Madelyn Holland
Jarret Meyer
Jay Waagmeester
Beau Daniels
Grace Heimensen
Hayden Heimensen
Carter Iwen
Lauren Langholdt
Tatum Jensen
Kalen Meyer
Luke Rasmussen
Daniel Schriever
Trey Vande Kop
Whitney Waagmeester
2019 editable Word file NHS application.
"Being a part of the National Honor Society for the past two years has been a true honor. Getting on NHS isn't an easy process, but it is definitely worth taking the time to apply. It helps to show applicants how they apply themselves to the four pillars of NHS which are scholarship, leadership, community service, and character. Members of NHS should uphold themselves to the highest standards and be strong role models for those around them." ~Dana K.
Tentative NHS Timeline:
3rd week of September: All junior and senior students who are academically eligible for NHS (3.33 GPA or higher) receive their Student Information Forms.
1st week of October: Student Information Forms are handed in to the NHS adviser. 2 nd week of October: All high school teachers fill out a teacher comment sheet on all students who have indicated interest in NHS. (See Teacher Comment Sheet to the right.)
3rd week of October: NHS Faculty Council receive and review Student Information Forms and teacher comments for each student. Then, Faculty Council meet to discuss and vote on each student.
4th week of October: All students who indicated interest in NHS will receive a letter in the mail informing them whether they have been granted NHS membership.
1st week of November: In-school assembly honoring NHS members
3rd-4th week of November: NHS Induction Ceremony
*A few things to note: The faculty council is a rotating committee of 5 high school teachers who remain anonymous. The adviser does not cast a vote in the faculty council meeting. There is no set number of students that make NHS. There is no set percentage either. The council votes largely on the student information form and the comments from all of the teachers; therefore, the number of members vary each year.