Jazz Choir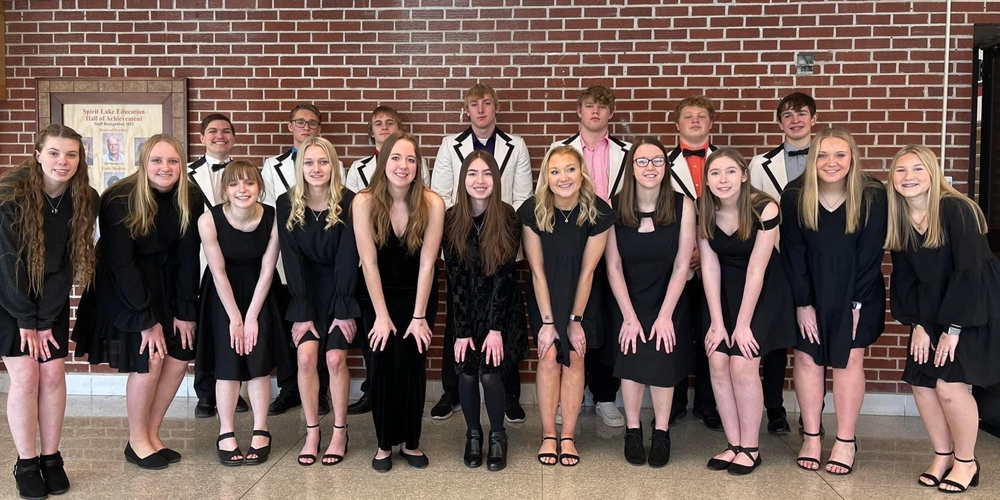 The Central Lyon Jazz Choir is an auditioned group that performs jazz and swing music. They rehearse twice a week on Tuesday and Thursday mornings from 7:25-8:00. This group performs at various concerts throughout the year and goes Christmas caroling at the local nursing homes in December and in the spring, they perform a ministry of music at the local churches in our community.
They compete at several contests in February and audition to compete at Iowa Jazz Championships which takes place in March in Des Moines. The jazz choir students have been chosen to perform at 2022 State Vocal Jazz Championships. Only eight schools are in each class are chosen from across Iowa. To earn this honor, they had to receive a Division I rating at our State Contest and submit a video application. All applications were then viewed by a panel of judges who scored and ranked each group to determine the choirs that will perform at Championships in Des Moines on March 29, 2022.
I have loved being part of the choir the past 4 years. When I joined my freshman year, I didn't really know what to expect. But after being involved in the fun environment with friends I grew to love it. I was able to join jazz choir my junior year. It was even more fun being able to be involved with my friends and compete in a smaller group. ~written by senior Gabe K.
Soprano

Alto

Jessa Pytleski
Anna Van Aartsen
Gabby Rasmussen
Olivia Lyman
Eliora Enriquez

Breckyn Korthals
Maycie Baker
Emerson Kelderman
Ameila Schneidermann
Lilyann Downard

Tenor

Bass

Anna Warntjes
Drew Kupferschmid
Aaron Springer
Grant Van Aarsten

Cael Schulte
Kayden Van Berkum
Chase Thedens
Matthew Langholdt